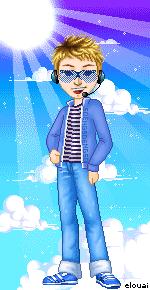 Iceus Drake'
'
(Born June 22nd, 1995)
is the son of Zephyr.
He is the main character. At the beginning, he is sent on a quest to find Aeolus by his father. In the middle, he and his companions (Alice Ryans and Draco Aarons) are joined by a kid named Siry. At the end, when Siry is killed, he kisses Alice. Finally, he fights an evil demigod and becomes Alice's boyfriend.
He is mentioned to be teaching Shadow about his wind powers.
He is the father of Alice's unborn child. They learn that it will be a boy and they name it Siry Alder Drake.
The couple get married.
Appearance
Iceus has blond hair, pale gray eyes, and a slim body. He is 6 ft. tall and weighs 141 pounds.                                                                                                                                                                      
Personality
He is compassionate and responsible. However, he also likes to have fun all the time. Finally, he can be rebellious in his own way.
Theme Songs
Move Along - All American Rejects
Relatives
Powers
Wind Control
Weather Control
Peace Keeping
Rejuvenating Plants
Quotes
"Yeah, well let's land and find out who's who!"
"Why the Zeus do you want them?"
Trivia
Do you know Iceus? Find out here.