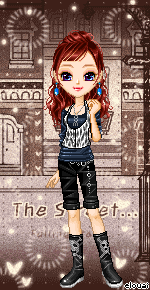 Leah Elle Osten (Born December 21, 1994) is a demigoddess daughter of Hades.
TBA
History.
Leah was raised by her mother, Jenna Osten. Jenna is said to be quite insane. Leah raised her younger brother, Shawn and his twin sister, Melissa. She's never really known what it was like to be the kid. She has always been one for holding grudges and rarely relieves them.
Appearance.
Even though she's only fifteen, she looks a bit older. She looks like a young seventeen year old. She has auburn hair, a mixture of medium brown and reddish. Her eyes are said to sparkle like blue topaz's. She has no special skin, she's just Caucasian. Leah likes to wear blue earrings or skulls. She is 5'4 and weighs about 118 lbs.
Personality.
Being an unspoiled child, Leah can be grudge holding and angry. She has a short fuse and flips out at certain people a lot. She is kind and calm around her family and a few others.
Known Family.
Trivia.
Read the fanfic. It's good.