Nolan Swift: My Story Begins Ch List was the April-May 2015 selection for the Wiki Book Club and received a score of 5.25!
2013 - Nolan Swift: My Story Begins Ch List has been nominated for the 2013

!!!
"Extreme Awards Winner"
The Twelve Olympians have given you the Best Remembered Story Award for the 2013 Extreme Awards. Extremely Fantastic!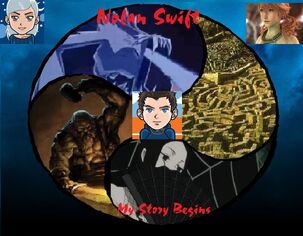 Disclaimer
I do not own the Percy Jackson series or the Heroes of Olympus series. This is a fan made story and I am making no profit from this. It is a purely fan made work.
Nolan Swift: My Story Begins
This is a prequel series to my completed story, Nolan Swift: Fastest Hero Alive.
Nolan Swift is a normal high school student who is forced to move to a small suburbian town after his house is destroyed by the rampaging Typhon. About a year later, he has a strange dream, a monster appears at his school, a girl appears in his class that everyone says has been there all year, and he learns the school janitor is a goat. As Swift begins to learn who he really is, a whole new world opens up to him thanks to a silver haired beauty.
Official Editor: Athletiger
Current Chapters
Nolan Swift: The main character and the son of Hermes. Nolan prides himself on his speed and because of that, prefers to be called by his last name. He is about 15-16 years old and wasn't claimed until after the events of the Percy Jackson series.
Mr. Jenkins: The school janitor and a satyr keeping an eye on possible demigods. He is about two hundred years old and had lost a leg in a monster attack years ago. He becomes friends with Swift and sneaks him into school when he is late.
Megan Snow: A demigod daughter of Athena, and one of the demigods sent to make sure Nolan Swift gets back to camp safely. She is about the same age as Swift, being only a month younger. The nick name she uses for Nolan is Slowpoke, a name he comes to accept.
Karena Diamante: Daughter of Eros, Karena is sent to help Megan bring Swift back to camp. She is the one that starts calling him Swift after a monster attack. She is not my character and belongs to ~Angel Wings~.
Author Comments
First off, I'd like to point out that because this is a prequel, my character (Nolan Swift) will have a slightly different personality because he's younger, although his core personality is still there. Second, I am using a character that Angel Wings let me use, there is a link to her charcter when she makes an appearence. I would also like to thank anyone that voted this story Article of the Month during the month of March, 2011.
Community content is available under
CC-BY-SA
unless otherwise noted.