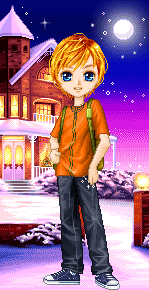 Stefan Zachary Griffin is a sixteen-year-old demigod son of Apollo.
Stefan had a one-night stand with April Wilson, daughter of Artemis, which resulted in a pregnancy. He dated her for a while after that, but he left when she told him she was pregnant.
It is unknown what happened to Stefan. April believes that he was either eaten by monsters or recruited into the Titans' army.
Appearance
Stefan is a very good-looking boy with blonde hair and hazel-blue eyes. He looks a lot like his father, Apollo. He is also said to bear a strong resemblance to Nick, son of Hermes.
Personality
Stefan is reckless, self-absorbed, and quick to act without thinking. He is also flirty and a good kisser, which helped him seduce April. He does not think he is ready to be a father. He could be considered a "player."
Known Family